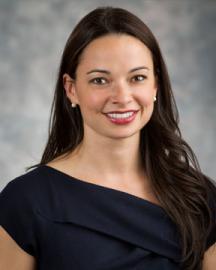 Specialty:
Orthopedic Surgery
Shoulder & Elbow Surgery
Hand Surgery
Trauma
Arthroscopy
Address:
North Texas Orthopedics
2535 Ira E. Woods Ave
Grapevi,ne TX 76051
and
4501 Heritage Trace Parkway, Suite 101
Fort Worth, TX 76244
Dr. Fleager is a fellowship-trained orthopedic surgeon who specializes in the upper extremity, including the hand, wrist, forearm, elbow, upper arm, and shoulder.  She treats adults, adolescents, and children.
Dr. Fleager is a Southlake Carroll alumni and former competitive gymnast.  She received her undergraduate degree from Stanford University, where she was a Division I athlete.  Dr. Fleager earned her medical degree from the University of Texas Medical School in Dallas, serving as class president for 4 years.  She returned to Stanford to complete an orthopedic surgery residency.  From there she was selected for the prestigious Harvard Hand and Upper Extremity Fellowship, where she trained under world-renowned surgeons at Brigham and Women's Hospital, Massachusetts General Hospital, and Children's Hospital of Boston.  She has published multiple articles in national journals and several book chapters.